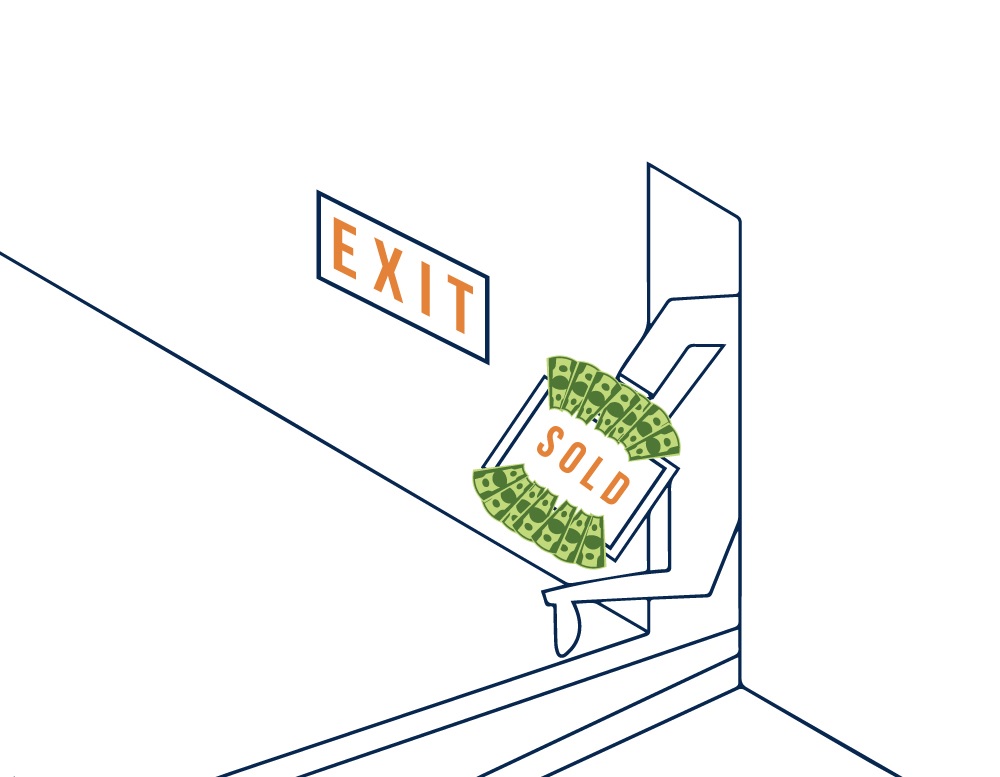 Sell My Business! Sell My Business?
Maybe not today or tomorrow, but at some point, you intend to sell your business . Having the end in mind from the beginning with an exit strategy is important. Whether you are simply seeking to gain a deeper understanding of the value of your business for planning purposes, or want to sell yesterday, you have come to the right place. Sixth Sense solutions is part of a brokerage collective that can help you with your exit strategy, consult with top experts, find the best deals and the highest multiple factors.
Please fill out the seller registration form below and we'll follow up with you to schedule a discovery meeting with us to review your business value and options.  We look forward to connecting with you to discuss your business framed in your exit strategy at no cost.
Want to know more about the the top four things to prepare my business for sale?  Click below on the preparation for sale button.  
What are the top FOUR things to best prepare your Business for Sale?

Achieve Operational Excellence

 Proper Stakeholder planning: Shareholders' needs – legal/tax/operational

Diversification: Payor Sources, referral sources, and lead flow

 Create procedures, policies, and automation:  Systems and infrastructure

  Settle where possible: Clean Operational history – Insurance or legal claims

Make yourself replaceable: Role and level of involvement of owner

 Cross train, delegate: Skills & roles of key staff, and their tenure
Who are the potential Buyers for your Business?
What do Buyers look for?
Individual Buyers
Profiles
Serial entrepreneurs
 Owner/operators in same or parallel business
Other adjacent franchise owners (if applicable)
Characteristics
 Suited for Main Street deals
Typically look for financing options including SBA financing
Tend to pursue local deals, close to where they live
Strategic Buyers
Profiles
Corporate Buyers looking for vertical or geographic expansion
Could be own Franchisor if business is a franchise
Characteristics
Not suited for franchise resales
Pursue larger main street and lower middle market deals/ deals not necessarily local to them
Private Equity Groups/Financials Buyers/Family Offices
Characteristics
Looking to start a new platform or bolt-on investment
Focused on Return on Investment (ROI)
Not suited for franchise resales
Pursue lower middle market deals/ deals not necessarily local to them
How to Best Package the Business
How to Best Position for maximum value
Create Blind advertising/social media messaging/email campaigns
Obtain Optimal Buyer vetting
Access to Collaborative Broker networks
Proven and Reliable Deal Management Systems
Deal Process– Things to Consider
Due diligence process:  can last 15 to 45+ days
Bank loan process: Covered in the next segment
Franchisor approval (If applicable) – Review the Transfer Section of your FA
Inform Franchisor of intent to sell
Pay transfer fee 
Bring status to current and sign General Releases
Current Franchise Agreement signed by Buyer
Satisfy all conditions for closing
Secure final franchisor approval
Enable transfer assistance
Buyer Due Diligence (* Some access restrictions need to be negotiated)
Be prepared for Due Diligence in Areas of business operations, quality oversight, financial, legal/operational, HR/employment, and marketing.  Examples:
Three years of Profit & Loss & Balance Sheet Statements (plus YTD) and Tax Returns
List of Assets to be included in sale – identify exclusions
Premises Lease and extensions as well as equipment leases
List of liabilities (amounts and payment schedules)
Bank statements for reconciliation
Insurance info (liability/WC)
Payroll reports and other Employee-related data
Customer data and stats
 Referral Sources data and stats
Allocation of purchase price – has huge tax implications for Asset Sale
State licensure requirements (as applicable)
Purchase Agreement
A Purchase Agreement typically contains the following segments:
Asset Vs Stock sale
Definitions of Assets being sold
Breakdown of consideration/ Purchase price
Treatment of Account Receivables
Conditions/Contingencies of the Sale
Mutual due diligence completion
Lease transfer or new lease
Buyer bank financing
Licenses/regulatory compliance
Franchisor approval
Description of escrow process and closing target date
Seller Representations and Warranties
Treatment of Prorations, Taxes, & Expenses
Covenant Not to Compete
Governing law and mediation of disputes
Escrow Process– Things to Consider
Pre-Closing Stage
Escrow receives additional funds if stipulated in Agreement
Franchisor transfer process satisfied (If applicable)
Begin the Change of Ownership Process, i.e. license(s)
Seller continues to run the business
Buyer contacts and sets up vendors for services (Insurance, Payroll, etc.)
Refer to Franchise Agreement for post close training obligations (If applicable)
Closing
Everything is in place: Licenses, insurance, funding, franchise agreements, employment of current personnel, operational transition
Franchisor training schedule (If applicable)
SIXTH SENSE SOLUTIONS Affiliation with
our trusted BUSINESS BROKERS
Sixth Sense Solutions strives to add value to our clients through key affiliations and partnerships with industry leaders in various fields. such as with Crossroads Brokers Inc., which aims to provide our clients with access to a valuable resource that can both educate on and execute exit strategies for Business Owners.
By completing the Seller Registration below, you can gain access to a one-on-one consultation and material that describe how to best prepare your business for sale, as well as receive a complementary Opinion of Value Analysis Report (for Businesses with Revenue > $1MM).
FREE OPINION OF VALUE ANALYSIS
We will perform a more detailed analysis and provide a detailed Opinion of Value report. Please click on the seller registration above
We offer it as a free service for businesses over $1MM in revenue!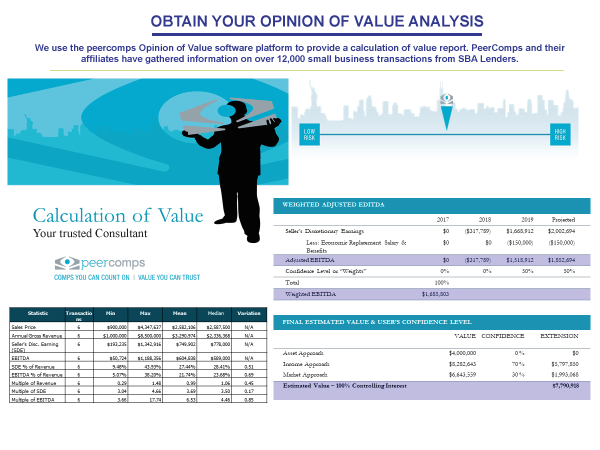 READ MORE ABOUT SELLING YOUR BUSINESS